Amid the coronavirus (Covid-19) crisis, ridesharing company Via Transportation Inc. has launched public transportation services dedicated to essential workers in several cities around the world, according to co-founder Oren Shoval. Shoval spoke to Calcalist reporter Meir Orbach Sunday at Conference Call, Calcalist's online convention on tech in the coronavirus era.
Founded in 2012, Via operates transportation services in over 90 locations and more than a dozen countries, offering various modes of operation in different places, including on-demand shuttles and ridesharing services. Last month, Via announced
a $400 million round, bringing its total funding raised to date to $787 million.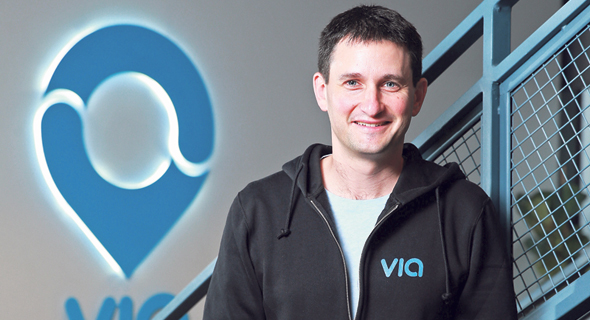 Oren Shoval, co-founder of Via. Photo: Orel Cohen
There are many ways in which smart public transportation can help during these turbulent times, Shoval said. Via is currently in talks with a lot of cities about the day after Covid-19, when things begin returning to normal, he said. Cities want to be able to monitor who boarded which vehicle, what routes they took, and how efficient the system was, he explained. According to Shoval, only a dedicated digital system, such as Via's, can manage the demand for public transportation and help people get their lives back in order responsibly.

Since there are hardly any private cars on the road right now, there are no traffic jams leading to the speed of public transportation to doubled or even triple, Shoval said. This situation is a golden opportunity to examine how public transportation can replace private vehicles and how roads can be better utilized to make it more efficient, he explained.

In Israel, Via operates on-demand shuttle service Bubble in collaboration with public transportation company Dan Bus Co. and has recently expanded its service to cover millions of potential passengers in Tel Aviv and neighboring towns Ramat Gan, Holon, Petah Tikva, and Givaatayim, Shoval said. "This alternative service comes in handy as public transportation in the country has been reduced to 25% its regular capacity," he added.

Shoval said he believes Via's services to be essential to recuperating from a post coronavirus recession. "Transportation is a growth engine for the economy and if we can help cities and countries provide efficient and convenient public transportation it could potentially ease the transition back to normalcy."
Lisa joined DARO Management Services in July of 2018 and specializes in the oversight of asset managed and company owned residential and commercial properties. Current responsibilities include the overall supervision for a portfolio consisting of over 1,000 units. Lisa oversees all staff development, training, personnel management, leasing, rent collection, monthly and quarterly financial variance/statement reports, annual budgets and project management for building repairs and capital improvement projects.
Prior to joining DARO, Lisa was with The Donaldson Group for 4 years and 11 years with Polinger Shannon & Luchs as a Regional Portfolio Manager throughout Maryland and Washington, DC. During that time, Lisa was responsible for all oversight and operations of a mixed-use residential, commercial and retail portfolio located throughout Maryland and Washington, DC.
Lisa is a certified and licensed DC Property Manager and DC Inclusionary Zoning and Affordable Dwelling Unit Program Manager (IZ/ADU), Community Apartment Manager (CAM) and is an active member of the Apartment & Office Building Association (AOBA), The Property Management Association (PMA) and The Maryland Multi-Housing Association (MMHA).